DOG BITE LIABILITY IN MICHIGAN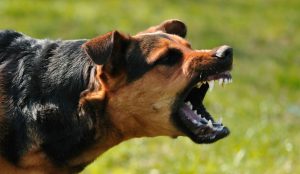 DOG BITE LIABILITY IN MICHIGAN 
Dogs are by far the most popular pet in the United States. In fact, research shows 44% of Americans own a dog. Pet owners spend billions of dollars annually on their dogs. Although not a single dog owner ever expects to spend money on a lawyer or medical fees due to their dog biting someone, the fact is over 4,000,000 people annually get bit by a dog.  Hundreds of thousands of those people seek medical attention. If a person's dog bites someone, are they liable for the medical bills of the person who was bitten? 
UNDERSTANDING THE LAW
Lawyers Mike Van Tubergen and John Hayes have been involved in dog bite cases in the Grand Haven area and understand the laws very well. According to Van Tubergen, in most cases, the dog owner is liable if their dog bites someone. "In the state of Michigan, dog owners are strictly liable if if their dog bites somebody," Van Tubergen noted. "One of the only exceptions for this is if the dog was unreasonably provoked."
OWNER LIABILITY 
In the majority of dog bite cases, the owner is liable if the dog bites someone. The financial cost to the owner can be extremely high. " The liability relates to any injuries that the person may have as a result of that bite," John Hayes said. 
KIDS AND DOGS
Dogs often bite kids in the United States.  "In most cases, if a dog bites a kid, the owner is strictly liable. With those bites frequently take place in or around the face  creating a visible lifelong scaring, damages can be extremely high" Hayes said. 
KEEP A WATCHFUL EYE ON FIDO
No one ever dreams their cute fluffy dog would bite someone, but it happens all the time.  A dog may perceive someone as a threat. A person may be loud or move fast moving. Many small children might scream. There are all kinds of reasons a dog bites an adult or child. "Medical bills and damages can be extremely expensive so we always suggest that dog owners take proper precautions to greatly reduce the odds of a dog biting someone.,"said John Hayes. "People should always keep a dog on a leash when walking them, always have control of the animal and when people enter the owner's home, a dog should be watched very closely when it is interacting with people."