Motorcycle Accident Injury Attorneys in Grand Haven MI | Ottawa County Motorcycle Accident Lawyers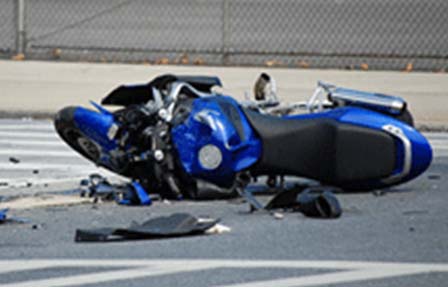 A motorcycle accident victim could be looking at several weeks, months, years or even a lifetime of significant pain and suffering that can be sustained in a motorcycle accident.  Financial losses from a motorcycle accident can be as catastrophic as the physical injuries.  You will need the immediate and persistent advocacy of an experienced motorcycle accident attorney such as the experts at Van Tubergen, Treutler & Hayes, PLLC, to help you gain the compensation you deserve for this type of injury.  Unfortunately, motorcycle accidents are bucking the trend of declining motor vehicle accidents in Michigan, and are not waning in frequency.
The facts of each case are important, and often prove the motorcyclist was not at fault, as is assumed by many.   Some drivers mistakenly feel the motorcyclist does not have the same rights to the road as does a car or truck.  Some drivers never even see the motorcyclist they hit, or feel that they have to yield the right of way to a motorcyclist!  Whatever the cause of the motorcycle accident, you, the victim, needs legal representation for your motorcycle accident claim to extensively investigate the cause of the accident, determine the liability, and pursue legal actions necessary to achieve maximum compensation for the injuries sustained in a motorcycle accident. Contact the Grand Haven, MI Motorcycle Accident Lawyers at Van Tubergen, Treutler & Hayes, PLLC for a free, initial consultation.  616-844-3000
You May Deserve more than you know…
Many people are aware that the laws pertaining to injuries sustained as a result of other motorists on the road have changed but are unaware of what their rights are.  You may be entitled to deserved compensation and not even know it.  In fact, The Michigan Supreme Court recently issued an opinion that may give more people access to recovery.  The case McCormick v Carrier, which was issued in mid-2010, changes the scope of what the terms "serious impairment of a bodily function" means.  Your peace of mind in suffering the catastrophic injuries a motorcycle accident can bring is important to us, and our dedicated team of professionals at Van Tubergen, Treutler & Hayes, PLLC will work diligently to bring you the compensation you deserve.
616-844-3000
 Contact us today for a free initial consultation.
616-844-3000
As you browse through the pages of this website, we hope you will begin to understand how we continue to make client success our mission! Contact us today for a free initial Consultation!