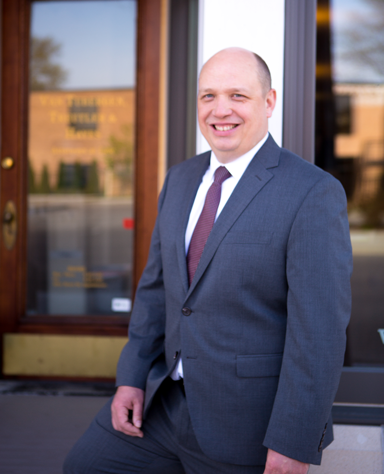 Areas of Emphasis
Estate Planning, Elder Law and Probate
Family Law
Criminal and General Civil Litigation
Advising small businesses and small business owners
Bar Membership
Member of American Bar Association, State Bar of Michigan, Ottawa County Bar Association
Education
WAYNE STATE UNIVERSITY LAW SCHOOL, Juris Doctor 2000
MICHIGAN STATE UNIVERSITY, James Madison College, Bachelor of Arts, Political Theory and Constitutional Democracy 1997
Successful Lawsuits
A Judgment for $2,126,434.54 in a case where the Plaintiff suffered a traumatic brain injury after being assaulted at an underage drinking party.
$550,000.00 for a legal malpractice claim.
$172,500.00 for a bicyclist who was struck by a drunk driver and suffered a partially torn Achilles tendon.
$50,000.00 for a dog bite victim.
Professional Activities
Mr. Van Tubergen has been a featured lecturer for the Institute of Continuing Legal Education on establishing special-needs trusts for disabled children and adults. He is also general counsel for the Grand Haven Area Arts Council.
Mike's diverse experience is an asset to his clients.  His versatility gives him the ability to recognize peripheral issues that affect his client's decisions.  Mike also has strong people skills that allow him to effectively communicate with his clients.  Mike's people skills also help him connect with juries.  As of this date, Mike has personally tried 24 criminal jury trials, with only 2 loses, 2 hung juries, and the rest were wins!
Mike has helped many clients establish business entities.  He continues to represent those clients with the varying issues they encounter.  Mike also acts as general legal counsel for several local manufacturing companies.
Mike recently began representing clients that are involved in the Outdoor Television Industry.  This includes providing representation (litigation and contracts) to one of the premier production companies as well as general counsel for several television programs airing on the Outdoor Channel, and other industry insiders.
 Mike has also been recognized for his expertise in Estate Planning and Elder Law by the prestigious Institute for Continuing Legal Education (www.icle.org), as he has been a featured lecturer for issues relating to Special Needs Trusts.   Mike uses his experience to help his clients with all aspects of Estate Planning.  He has learned that every family is unique and that it is especially important for him to carefully listen to his clients before giving advice.  Mike's basic philosophy to estate planning is to "hope for the best but plan for the worst."  He also understands that these meetings often bring anxiety to his clients and also sometimes even conflict when spouses do not agree on an appropriate way to treat one or more of their children.
Mike has also successfully represented many people in matters concerning divorce, child support, custody, parenting time, and neglect abuse proceedings.  Mike's knowledge of business entities, operations, and business practices allows him to better represent a business owner (or his or her spouse) in divorce actions.  As such cases often hinge on the valuation of businesses and understanding how to manipulate the accounting to obtain an optimal result for his client.
Personal
Born March 19, 1975 in Grand Haven, Michigan. Mr. Van Tubergen grew up in Grand Haven graduating from Grand Haven Senior. High School in 1993. While in law school he started working for the Wayne County Prosecutor's Office as an intern and then a part-time employee. Upon passing the bar exam, Mr. Van Tubergen accepted a position with the Cass County Prosecutor's Office spending a year in Cass County before returning to Grand Haven to open his own practice in January 2002. Mr. Van Tubergen formed a partnership with Carl Treutler in July 2003. The pair then moved into the building at the current location in October 2003
Mr. Van Tubergen currently resides in Grand Haven with his spouse (Amanda) their daughter Alena, and their two German Shorthair Pointers. When he is not working Mike focuses on being a great Husband and a Dad. He also tries to leave a little time for his other passions, hunting and sporting clays
616-844-3000
As you browse through the pages of this website, we hope you will begin to understand how we continue to make client success our mission! Contact us today for a free initial Consultation!