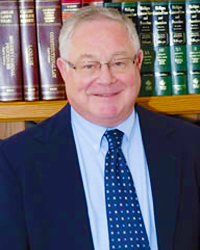 Areas of Practice
Debt Relief
Family Law
Estate Planning
Unemployment Compensation
Civil Litigation
Mr. Treutler has practiced law since 2002. Prior to that time, he worked in the Grand Haven Public Schools as a high school mathematics teacher, football and track coach.
During his law practice, Mr. Treutler has worked in the areas of debt relief or bankruptcy, family law, estate planning and several other areas.
Mr. Treutler received his B.S. in Mathematics from Central Michigan University in 1965 and a MA in Secondary Administration in 1970. He received his J.D. from the Thomas M. Cooley Law School in 2000.
Mr. Treutler formed a partnership with Michael T. Van Tubergen in 2003. The partners purchased their current office building at 114 N Third Street in Grand Haven MI in that year and are currently adding additional offices to that building.
Mr. Treutler lives in Grand Haven with his wife, Susan. He is the father of two sons and the proud grandfather of eight wonderful grandchildren.
616-844-3000
As you browse through the pages of this website, we hope you will begin to understand how we continue to make client success our mission! Contact us today for a free initial Consultation!