Get to Know Mike Van Tubergen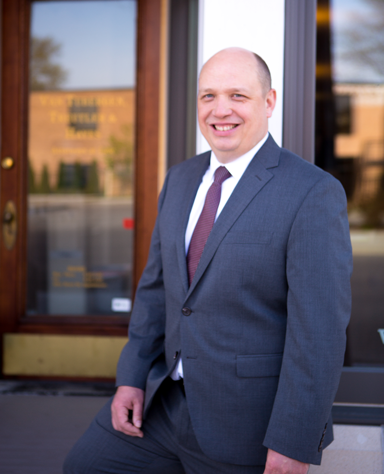 Mike Van Tubergen has known since he was a kid growing up in Grand Haven that he wanted to be an attorney. "I think that started with my love for Westerns where there was a common theme of Right vs Wrong." One life changing event temporarily derailed that plan. On October 31, 1992, Van Tubergen and his best friend, Adam Provencal got caught up in a high school prank gone wrong. Some friends were lobbing rolls of toilet paper in the landscaping of their boss when Van Tubergen and Provencal drove by. They stopped to talk with their friends and the homeowner/husband came out of the house swinging a canoe paddle at everyone. The students scattered but the homeowner walked around the vehicle that was driven by Provencal and wrote down the license plate number and walked back into his house. Provencal asked for the homeowner if he would "talk about it" however, the guy did not respond and walked back into his house. Adam decided to pull into the driveway and knock on the door to try to fix the misunderstanding. At that moment a shot blasted through the door and tragically ended Provencal's life.
"We really were at the wrong place at the wrong time." Provencal was killed by a homeowner who pulled the trigger on a gun he supposedly thought was unloaded. "I witnessed the shooting and it changed my life forever" Van Tubergen stated. The national media got a hold of the story and the trial was featured on Court TV. In the end, the Jury determined this was really an accident and the Defendant was convicted of Reckless Discharge of a Firearm resulting in Death. He was sent to prison but was out in less than two years.
Van Tubergen and Provencal were planning to attend the University of Michigan as roommates. After Provencal was murdered, Van Tubergen switched gears to attend Lake Superior State University (www.lssu.edu) and major in environmental science. "I was so disappointed in the legal system that I didn't want anything to do with lawyers." "While taking an American Government class I realized that it was OK for me to follow my original dream and pursue a career as a lawyer." "I then realized Lake Superior State was not for me, and at the advice of my academic advisor transferred into the James Madison College program at Michigan State University." http://jmc.msu.edu/
In law school, Van Tubergen focused on a career that would help others. He worked as a Student Attorney in the WAYNE STATE UNIVERSITY LAW SCHOOL Free Legal Aid Clinic and then interned with the Wayne County Prosecutor's Office. Following the internship, Mike was hired by the Wayne County Prosecutor's Office as a half time employee during his final year of law school. At the end of that time, Van Tubergen was advised he would be offered a full-time position provided he passed the bar exam. "Wayne County (Detroit) was a great place to work, especially for a young lawyer. There was an opportunity there for me, but deep down inside, I longed for the lakeshore." He decided to turn down that job and take his chances at finding a job in West Michigan. Within a month of being notified he passed the bar exam, "I accepted a position with the Cass County Prosecutor's Office"
"In January of 2002, I started my own practice in Grand Haven. Like any new business, there were a few bumps in the road. Starting a new business isn't easy, especially a law firm. Getting new clients and building a good reputation takes time, but I was happy to be home," Van Tubergen said.
After a few months in business, Van Tubergen was working hard but barely paying the bills. "I was very nervous that I would need to swallow my pride and start applying for a job". Things changed for him when won his first jury trial that summer, represented a 19-year-old who accused of smoking marijuana in a residence. The case arose when the police raided an apartment (shared by client's 19-year-old friends) following a tip that "people were smoking marijuana inside". The police ultimate recovered a modest amount of marijuana. One of the residents confessed it was their marijuana and was taken to jail. The other two were advised they could admit they were smoking marijuana and receive a ticket or they were going to be charged with possession and taken to jail. "In the end, the jury took less than 20 minutes to come back not guilty and I suddenly got busy."
"As I look back now, I realize I could have made more money in a bigger city. I could have worked for a large firm that was already established. That would have been easier and more lucrative, but I have always loved Grand Haven. I wanted to open my law firm here and raise my own family here. That is what I am doing and I have no regrets," Van Tubergen exclaimed.
Fifteen years later, Van Tubergen and his law firm are doing extremely well. He focuses his work on general practice representing some of the best clients in town. He also has developed a specialty representing TV personalities in the outdoor industry. "Celebrities in outdoor television need a lot of legal work done because everything they do involves a contract. I represent them in all facets of their business including their deals with television networks, sponsorships, personal endorsements, licensing their brand when necessary negotiating deals and collecting money." Van Tubergen noted.
Van Tubergen currently represents several popular television shows including Nick's Wild Ride, Driven with Pat & Nicole, Bow Life TV, and Fear No Evil.
It appears that coming home to Grand Haven was the right move for Mike Van Tubergen.
Request a Free Initial Consultation